Transform Windows 8 to Windows 7 with Classic Shell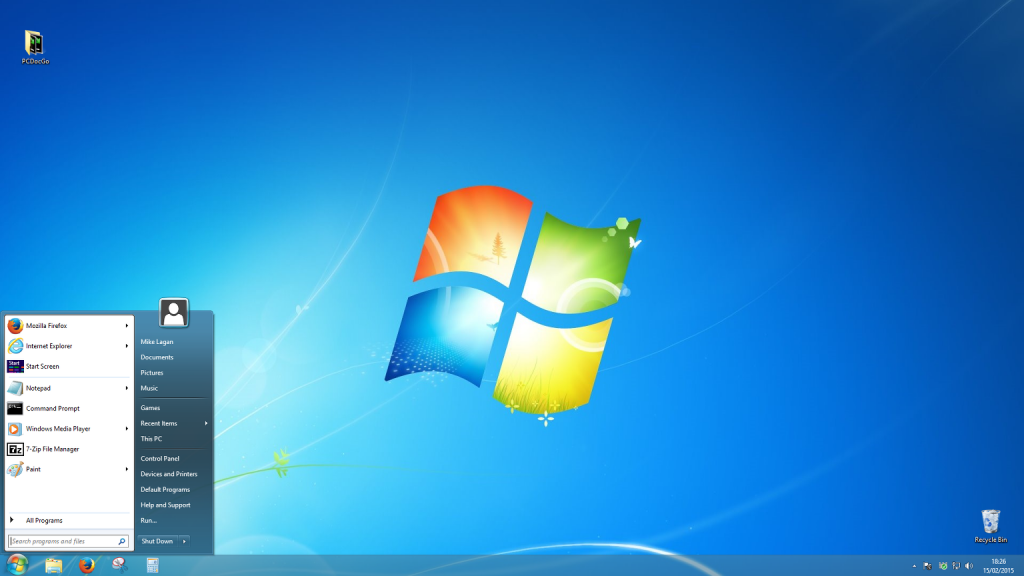 To have a Windows 7 desktop like the one above on your Windows 8/8.1 desktop or laptop follow the steps below:
Install Classic Shell and Windows 7 Desktop data Files
Download Classic Shell 4.1.0 or later from http://www.classicshell.net/ and install with the default settings.
Download [filedownload file="downloads/Classic_Shell.zip" style="color:#0000EE;"]Classic Shell.zip[/filedownload] This contains Windows 7 desktop background; Start Button images and Classic Shell "Menu Settings.xml" file with the following custom settings:

Enable Category View for Control Panel
Disabled all Active Corners
Replace Start Button using Windows 7 Start button
Skip Metro desktop on boot or login
Metro Apps. hidden
Hide Metro Apps from search

Extract the zip file in your Downloads folder to Downloads\Classic_Shell. The resulting file folder structure should look like the Explorer snapshot below

Configure Classic Shell Windows 7 Desktop

Right-click Classic Shell Start Button and select Settings.
Click Backup button and select "Load from XML File". Navigate to Downloads\Classic Shell\ and select "Menu Settings.xml" file and click Open to load settings.
If required make additional changes within Classic Shell Settings and save changes by clicking Backup button. Select "Save to XML file" from pull-down list. Select "Menu Settings.xml" and click Save and overwrite original file.
Click OK save changes and exit Settings.
Configure Windows 7 Background
Open Control Panel and navigate to Appearance and Personalisation\Personalisation and click Desktop Backgound. Browse to the Downloads\Classic Shell and select "Windows 7 Desktop.jpeg". Click Save Changes and close control panel.
You should now have a Windows 7 desktop with the look and feel of Windows 7 with all the underlying benefits of the Windows 8 or 8.1.